Make Sure Your Layton Home Stays Cool With Ceiling Fan Repair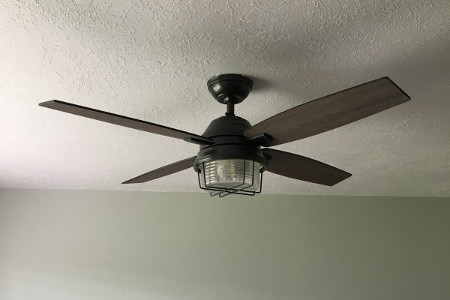 Don't make the mistake so many other Layton homeowners make which is to fail to get ceiling fan repair. Your ceiling fans play an integral role in cooling as well as heating and you're doing yourself an injustice if you don't use them more for supplemental heating and cooling.
Yet, it also depends on the pro you call to get the job done; you need a reliable electrician to get the job done. That's why so many local Weber County and Davis County homeowners rely on 801 Electric LLC for their ceiling fan repair service.
There are a number of reasons you may need this type of repair. What matters the most is that you have a dependable expert to partner with for your electrical service needs, including ceiling fans.
Essential Ceiling Fan Troubleshooting & Repair
Think about the fact that it's not even uncommon for a pre-owned Weber County and Davis County home to sell that has one or more ceiling fans not even working. That's how common it is for people to just live with fans that don't function.
Don't make this mistake when you can call a reliable electrical contractor for common ceiling fan repair services like:
The fan isn't working at all - This is when the fan is dead and you can't even hear a hum as though the motor is trying to turn the blades. First look to make sure the switch has not been turned off around the housing, maybe accidentally while cleaning it. Then, check the circuit breaker or fuse and, if that's not the root of the problem, call us for an assessment.
If the blades won't turn but you can hear the motor, check to see if the light still works, when applicable. Try to also hit the reverse direction switch to see if it's stopped working for both directions. While this isn't something you should try to fix on your own, it's information you can give to your electrical professional.
Then there are issues like humming or wobbling that may allow the fan to still work but can be quite annoying. Plus, it's an indication that repair needs will soon be following. Try turning it off and letting it rest for a moment, especially if you tend to leave your ceiling fan run at all times. If that doesn't help, call in a pro to have a look.
We're the experts for superior ceiling fan repair in Layton, so contact us now.