Keep Your Layton Home and Family Safe With Electrical Safety Inspections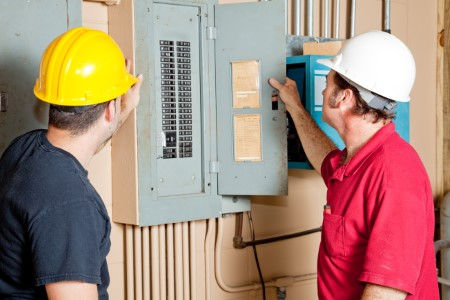 Layton area homeowners should schedule electrical safety inspections on a regular basis. Just because you got a brief one included with the home inspection when you purchased your house doesn't mean you can forget about it now.
Out of sight doesn't mean out of mind, when it comes to your electrical system, or at least it shouldn't. Stay current with electrical safety inspections and contact the team at 801 Electric LLC to get the best possible results.
When you need this type of service you need a reputable electrician in Layton or Weber County and Davis County in general, and our company's service excellence rating is unsurpassed. Don't take chances when it comes to the results you get from your service provider.
How Often Should I Schedule An Electrical Safety Inspection?
If you live in the Weber County and Davis County area, you may be wondering how often you should have electrical safety inspections. The general rule is once approximately every 5 years. However, you may want them more frequently if your home is 40 years or older.
Other times this is a good idea include if you're remodeling or about to add a major appliance. Here's a sample of what should be on the checklist your electrical contractor professional provides you with for your inspection:
Make sure light switches and electrical outlets are in proper working order
Ensure that you even have enough outlets and switches to accommodate modern day demand
Check for overuse of extension cords to supply enough electric
Do you have GFCIs in areas where water and electric are both in use?
Have these outlets been tested in the past 30 days?
Look for presence of smoke and carbon monoxide detectors
Clean condition of oven's hood
Electrical appliances with frayed cords or located too close to water or heat producing source
Proper ventilation for systems like HVAC and dryer
Condition and age of electrical panel
No flickering of lights or alarming sounds like buzzing or sizzling
Strange smells including burning, fishy, rotten egg, or urine smell that actually can indicate wire or plastic housing burning smells
These are just a few examples of details of a checklist that should be used by your professional and then shared with you. For all of your electrical safety inspections for your Layton home, make the wise choice to call on us, today, and ensure your family's safety.
Commercial Safety Inspections
Commercial buildings need to maintain a high level of safety too, and our job is to take care of this for you. It's vital that your building and business starts up meeting code, and continues to do so.
Electrical issues can cause serious problems and also cause you to be liable in the event of damages or injury. Rest assured you get the best possible results from your inspection by trusting us to get the job done.