Your Trusted Electrician in Weber County, UT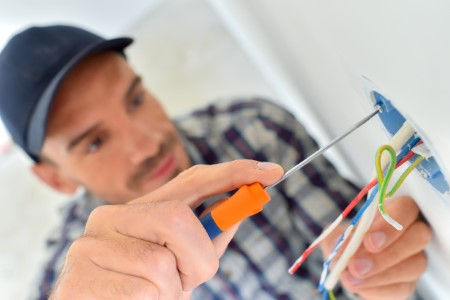 There are a number of reasons you'll need a Weber County electrician, for your home or business. It's important to have a reliable expert to partner with so you can get the best possible results.
Above all else, what matters the most about this type of work is safety. Our professional focus at 801 Electric LLC, is the name to know for service in this field, and your safety and satisfaction are top priority to us.
Don't take chances when it comes to the quality of service you get from your Weber County professional election. Make it a point to partner with local experts that are committed to service excellence and don't take chances by cutting corners.
Residential & Commercial Electrician Services
We're the go-to team for a variety of essential tasks when quality matters, as it always should for your electrical work. That also means taking care of home and business owners in a variety of local areas.
Cities, towns, and unincorporated areas that are included in Weber County include:
Eden
Huntsville
Marriott-Slaterville
Ogden
Reese
South Ogden
Washington Terrace
West Weber
Farr West
Hooper
Nordic Valley
Plain City
Riverdale
Taylor
Warren
Harrisville
Liberty
North Ogden
Pleasant View
Roy
Uintah
West Haven
Importance of Aluminum Wiring Replacement
You have plenty of tasks to take care of when it comes to being a homeowner, and that includes the electrical system. While older homes here have plenty of charm, they can also come with their own unique problems, like outdated wiring.
In fact, some wiring shouldn't be left in place which is why aluminum wiring replacement is such an important task. If your home was built, remodeled, or added on to during the mid-60s to early 1970s, it's important to get checked for this type of wiring.
Your safety is our priority. So, when you need a Weber County electrician, make the call to our team of experts.
Panel Upgrades for Weber County Homes: Ensuring Efficient and Safe Electrical Systems
A reliable and robust electrical system is crucial for modern homes in Weber County. As technology advances and electricity demands grow, many older homes struggle to keep up. Panel upgrades are a viable solution to enhance electrical efficiency, safety, and convenience.
Why Upgrade?
Older homes often have outdated electrical panels that can't handle the load of modern appliances and electronics. Upgrading to a higher ampacity panel ensures adequate power supply and prevents overloading.
Enhanced Safety
Outdated panels may pose safety hazards like overheating and electrical fires. A panel upgrade with advanced circuit breakers enhances safety, protecting both the house and its inhabitants.
Meeting Code Requirements
Panel upgrades ensure compliance with current building and safety codes, giving homeowners peace of mind and potentially increasing property value.
Facilitating Home Expansion
For homeowners planning additions or renovations, panel upgrades accommodate the increased electricity needs associated with expanding living spaces.
Incorporating Green Energy
Upgraded panels can facilitate the integration of solar panels or other renewable energy sources, promoting eco-friendly initiatives and potential cost savings.
Optimizing Home Insurance Rates
Insurance providers may offer better rates for homes with upgraded panels as they are seen as lower risks for electrical incidents.
Don't overlook the importance of a properly functioning electrical system. Investing in panel upgrades is a wise choice to ensure your home is equipped to handle modern electrical demands while prioritizing safety and efficiency.