Layton LED Lighting Retrofits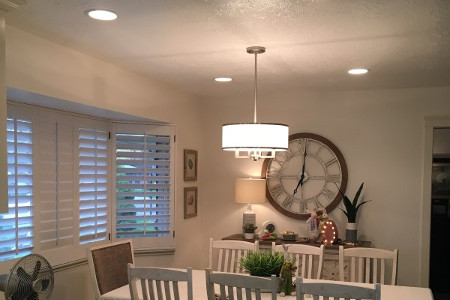 Making the transition to LED lighting retrofits for your Layton home is a wise idea, but it all starts with hiring the right electrician to get the job done. Homeowners in areas like Weber County and Davis County have come to trust 801 Electric LLC, with this type of work.
LED lighting retrofits have become extremely popular in recent years, and for plenty of good reasons. This is the process of replacing the existing lighting system with LED technology without the need to replace the existing fixture.
The good news is that when you make the smart decision to partner with us for this type of service, it all starts with our free estimate. We're committed to providing the best service and that's how we've managed to become a local leading service provider in Weber County and Davis County.
Make the Most of Your Home's Lighting With LED Lighting
More homeowners are making the switch to LED lighting retrofits. Any reputable electrical contractor can tell you that some of the benefits include details like:
LED lights are known for being more energy-efficient. That makes them much more cost-effective to operate. Plus, more energy-efficient systems are better for the environment because they're less wasteful. If you want to save money and have a greener household, this is a critical step to take.
This type of system is also known for having a longer lifespan. When properly engineered, you can expect longevity of 50,000 hours or more. No more changing bulbs every month when you can have this type of lifespan.
Unlike florescent bulbs, there's no warm-up time required. Plus, they respond better to a variety of temperatures. LED isn't affected by cold temperatures the way other types of lighting systems are.
LED lighting can be used for both indoors and outdoors. You can have the same high-quality, cost-effective lighting system for the interior and exterior of your home.
Aside from all of the benefits of LED lighting, there are also advantages when it comes to opting for retrofits. When compared to installing all new lights, this is a more budget friendly alternative.
So, you save money with the upfront cost, as well as the monthly cost, when it comes to having these lights in place. LED lighting retrofits are ideal for your Layton home, so give us a call today.