Your Trusted Electrician in North Ogden, UT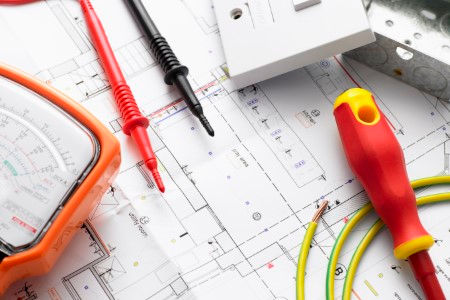 Are you looking for just a North Ogden electrician, or are you in the market for a local leader and electrician specialist? If you want an industry expert to partner with for all of your service needs, you've come to the right place.
At 801 Electric LLC, we're dedicated to taking good care of our customers because safety matters above all else. You need to be certain that you work with a professional who cares as much about the safety of your electrical system and your well-being as you do.
There are plenty of electricians in North Ogden but you want to avoid the cut-rate options that also means they cut corners. We look forward to working with you and showing you firsthand how we've earned the reputation that we have.
Panel Upgrades - Ultimate Home Improvement
Every North Ogden homeowner has a wish list of things they'd like to change and update in order to improve their Home Sweet Home. However, if you're in need of a panel upgrade, that should be your priority.
It may not sound as exciting as other renovation options you have but it will be one of the most rewarding. Even more important, it will make your home safer and that take priority over any other alternate project.
Some of the benefits of panel upgrades include:
Stop dealing with burnt out fuses or constantly tripped breakers by updating your panel. Outdated panels aren't able to handle the output required for keeping your home running. The burden of the electrical demand tends to cause red flags like burned out fuses and tripped breakers; don't ignore this issue or you could end up with more serious problems.
You'll be able to add new major appliances or take on renovations or remodeling jobs, once you upgrade your panel. You can try any of these tasks without doing the upgrade first, however, you'll have better results once you upgrade the panel. Plus, you eliminate the likelihood of damaging your new appliances.
This also increases the value of your home. Even if you don't plan on listing your home for sale in the near future, there's nothing wrong with maximizing the value. Plus, this makes it more desirable; some prospective buyers won't even consider a home with an outdated panel.
The best thing you can do is make your home safe, comfortable, and more user-friendly. Call our experts and get the results you deserve from the best North Ogden electrician.
Reasons for Panel Upgrades in North Ogden: Ensuring Safety and Efficiency
Panel upgrades in North Ogden are essential for homeowners seeking a secure and efficient electrical system. Older homes often have outdated panels that cannot cope with the demands of modern technology. Upgrading the panel increases its capacity, providing a reliable power supply to meet the needs of today's electronic devices.
Safety is a paramount concern, and panel upgrades address this issue effectively. Outdated panels may lack advanced safety features, leading to potential hazards like overheating and electrical fires. Upgrading to a modern panel with improved circuit breakers reduces these risks, protecting both the home and its occupants.
Furthermore, panel upgrades ensure compliance with current building codes in North Ogden, promoting a safe living environment and potentially increasing property value. Upgraded panels also accommodate future home expansions or renovations, supporting additional electrical loads without compromising performance.
In conclusion, panel upgrades in North Ogden are a proactive step to enhance safety and efficiency, providing homeowners with peace of mind and a reliable electrical system for the challenges of contemporary living. Call 801 Electric LLC for more information.