801 Electric LLC: Ogden's Premier Electricians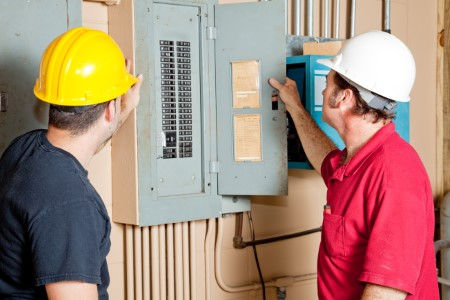 The wise thing to do is find an Ogden electrician to work with for all of your service needs. This includes both residential and commercial work, because the last thing that you want to do is choose the wrong contractor for your electrical work.
Whether it's an emergency or not, you still deserve the highest quality of workmanship, especially for a field of work this important and potentially dangerous. Locals here in Ogden know the name to trust in is 801 Electric LLC.
We take this line of work seriously and there really is no other way to treat electrical work. Safety is the number one priority when it comes to electricity in your home or your place of business.
How Important is an Electrical Safety Inspection?
One of the best things you can do for your Ogden household is schedule an electrical safety inspection. As a homeowner, you should want to do everything possible to keep your household safe, for yourself and your loved ones.
When is it a good idea to get this type of service? Of course, even if you just need the peace of mind and want to set your mind at ease, that's reason enough.
The age of your home has a lot to do with it. Homes that are 40 years old or older should have this type of service conducted on a regular basis. Otherwise, you're taking too great a risk.
If you would like to add a new major appliance, have an inspection. This will ensure that your current system is up to handle the job. Otherwise, you could end up adding extra strain to the system. At the very least you'll be tripping breakers or blowing fuses regularly. At the very worst, you could ruin that brand new appliance.
Obviously, if you're planning on buying a home it's important to have this done. A general home inspection is great but something that doesn't get to the important safety issues specifically, like electrical work.
It just makes good sense to get this type of work if you want to prevent fires, injuries, or, even worse, fatalities. Call our experts and get the finest results from an Ogden electrician.
Benefits of Panel Upgrades in Ogden: Enhancing Electrical Performance and Safety
Panel upgrades in Ogden offer significant advantages for homeowners seeking to improve their electrical systems. With the rapid evolution of technology, many older homes struggle to meet modern electricity demands. Upgrading the electrical panel increases the ampacity, ensuring a smoother and more reliable power supply. Moreover, it reduces the risk of circuit overloads and electrical hazards, enhancing home safety. An upgraded panel also allows seamless integration of green energy solutions, like solar panels, promoting eco-friendliness and potential cost savings. Overall, panel upgrades in Ogden are a smart investment, ensuring efficient electrical performance and peace of mind.